Kids Links


We have moved!!! Please join us at our new home. Homeschool Fun Zone

A Magic Wall This is a very unusual game. To escape you must work the math correctly three time in order to see the light of day again!
Albatross Air Join Orville, Bianca and Bernard as they try and fly to Devil's Bayou. Flying Albatross Air will be a true experience for you!
Amoeba Madness You're Meebie the Amoeba and you've got to stop the Evil Crunchie Pricklies. You control Meebie the Amoeba in his fight against the evil Crunchie Pricklies. Fly around and bounce them from above. Hold the mouse button to fly!
Animal Trivia Test your knowledge with Willie Wonka.There are 2 levels of play. Do you know what a group of lions is called? Play the game and find out!
Aqua Rage Zoom your powerboat. Avoid the mines and collect the ATI chips! Take care! There are many things to trip you up here!
Astro Ball Keep the ball bouncing in this cool 3-D game. Hit the far wall to reveal parts of a picture. Get the whole picture and start a new level! Click the mouse or press the spacebar to release the ball. You must hit the ball every time it comes back or lose a life. Knock out all the pieces in the wall to go to the next level. Use the Shift key to grab the ball and relaunch it by releasing. You lose points for using the Shift key.
Aussie Surf Classic Go surfing and see if you can beat top competitors. It's you against the toughest competitors on the pro circuit. Make it through three rounds to win the trophy
Bertha ButterflyHelp Bertha get past a bunch of hungry frogs and get to the sweet nectar of the red flower on the other side of the pond.
Besty McCall and Her Wardrobe Here is a pre-colored paperdoll and 12 outfits for you.
Blat The BugsSave your delicious three-layer chocolate cake. There are 6 hungry flies who want to eat it before you do. Swat them away one by one by clicking on them with the mouse.
Brain Bogglers with Slylock Fox See if you can solve these puzzling mysteries. It's time to play Slylock Fox Brain Bogglers - a bizarre bunch of bewildering bits of bafflement to befuddle you beyond belief! Be sure to click the bottom of the page to play even more of them!
Bonus-Great Games and more.....
Chef Jr. Comic Construction Kit Create your own story - choose backgrounds, stamps, color it, and write the text - when you're done, you can print out the page with your own comics!
Dance With PikachuLike to be silly? Well, here is the perfect site to be as silly as you want. Dance with Pikachu and have a great time. And please be fair. This one is going to drive mom and dad "looney tunes."
Disney-Games, Shopping, Travel
Etch-A-Sketch Great games and coloring pages
EZoneGreat Fun for the Whole Family
Feed The Need "Dude! Skating in Pastapolis is some serious business! And the dudes in cars just don't care about a kid on a skateboard. Plus there's potholes! Monsters! Your Mom! You gotta jump, grind and ollie to keep from wiping out. Oh, and grab cans of Chef Boyardee Beef Ravioli to keep your health up."
Freida Fillet and the Deep Sea Beasties Freida has to run an awful race full of sharks, piranha, and barracuda. Help avoid them by dragging her around with the mouse.
Frog Well Be quick with your math and catch the bugs. This is a bit like catching flies for the frog to eat, but here you will see numbers. A score of 500 wins the game!!
Garfield At Home There are so many things for you to try...coloring, games, puzzles, and much more.
Gamequarium Over 600 educational games
Golden Books-Games, stories, and a downloadable coloring book.
Hex 7 Test your skills against the computer and build a chain of white spots across the board before black does! Can you capture the most spots?
How to Make and Keep an Art Journal An art journal is a terrific way to practice your art, make sketches, try new techniques, or just experiment. Try these handy tips of making and keeping an art journal.
Idea Box Kids Crafts
Inew Great Math Games
Jolly Time-Great kids club where they can play games and earn points.
Kellogg's Game Zone-Great games
Kendra's Coloring Book Color on line or to print it out.
Kids Club Nutrition Maze Wander around the mazes and find treasures. You can trade treasures for food - pick good ones for extra energy!
KinderArt-The largest collection of free art lesson plans and art education information on the Internet.
LifeSavers Candy Stand-Lot of great games with great graphics and sound effects.
Mad Libz Make your own story with the National Wildlife Federation. These are going to be "some crzzy and silly" animal stories.
McGruff The Crime Dog-Stories, Coloring, Puzzles.
Moon Defenders Zip along rescuing people and shooting the enemy ships. this takes some practice, but I kow you can master it.
Mudpie's Markers Mudpies says,"I'm going to use my blue marker and try and draw a line that connects the top of my paper to the bottom. You can use my red marker to go from one side of the paper to the other. The fun part is trying to go from side to side, while trying to stop me from going to top to bottom. Use your mouse to click in the square you want to color red. . .but keep an eye out for my blue line!!"
Online Workbook Pages This is a fantastic place for you to practice your math skills. Select the type of pages. Then, select the level. And, lastly, select the type of practice you need today. Bookmark this one for the summer. I know you will want to review a lot during the hot, muggy summer days!!
Pac-ManSimilar to Pac-Man arcade game
Paper Dolls-Paper dolls that can be printed off.
Ravoli Run Run Beefy Boy across the street and get to the ravoli...WATCH OUT! There are many things to stop you!
Robob Word Scramble What is tougher than nails and has a head with no brain? Test your smarts and unscramble the answers to riddles.
Rumpus-Games, free kids club, and more.
Science That Is Fun Wow!! The projects and experiments here are mind-boggling. So if you are a lover of science, you will flip out over this site today!
SPY Fox and His Friends and Foes Click on the picture you want to print and color.
Squiggly's Games Word scrambles, picture matches, and fun quizzes--They are all here. There is so much to see and do that I think you'll be here all weekend!!
Warp 1.5Fly your space craft through a maze of towers, blowing up things in your way. Cool music to play, too!
Word Detective This is a custom seek and find word search game. You give FunBrain a list of words which it then hides in the puzzle. Select a level and whether you want to play against FunBrain or if you want the puzzle to be printed out on paper so you can play it away from the computer.
Zapoids Ready - aim - fire! Zap the aliens, grab extra shots, but watch out for the ones that will cost you a life! There are 4 levels of play for everyone!



If you find a broken link, please let me know.
E-Mail Me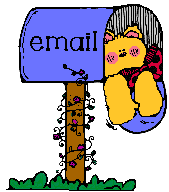 Copyright 2001-2003 Penny Holder All rights reserved.